Years ago, I learned I can't eat beef. I love it, but it doesn't feel the same about me. Take one major food item out of your diet and it leaves a bigger void than you think. The good news is that it causes you to get more creative about what you can eat and to seek items to fill that void. For me, it was vegetables. I've always liked them but now I had a reason to prepare them in new ways.
Problem is, we prefer organic and organic can be expensive. We've worked really hard to remove added chemicals, preservatives and dyes from our diets, so we didn't want to hinder all that progress by ingesting pesticides. We also wanted to have a wi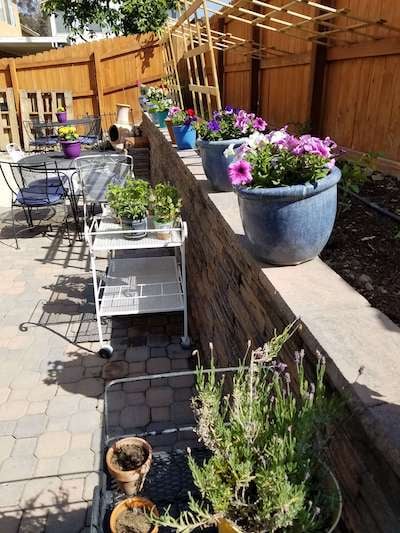 de variety of choices available, and with the drought going on here in California for years, our produce rates go up and down. How to resolve all our needs? Start our own garden!

Gardening is undervalued in today's society, but it is seeing a resurgence amongst families who want to offer their kids a wider variety of meal choices with the benefit of being self-sustaining. What's not cool about going to harvest your own meal ingredients, right in your own backyard? For the price of some seeds, maybe some safe wood products to house the beds or hold up tall plants, and some water, you can have the produce world at your feet...literally.

Being self-sustaining is much more than growing your own produce but it's an easy step in becoming a green household. Even if you never do more than growing a garden, you're making a huge step in the right direction towards improving your family's health and helping the environment. You'll also positively impact your family's finances, as after the initial investment, growing your own produce is usually cheaper than buying your own.

Starting our garden that first year is where we spent the bulk of the money. We had just re-landscaped the backyard and put in raised planters to provide the support our back fences needed in place of the tons of dirt making an unsightly slope. It was such a waste of space and it was a mudslide waiting to happen. After completing the block planter walls, we brought in new dirt. The top 12" or so was saved for organic soil. We bought a few support trellises, heirloom organic seeds and a soaker hose. While it sounds as though I've over-simplified it, it was really that easy.

Later, we added a few seedlings: tomatoes, zucchinis, squash, various peppers, tomatillos and green beans. I learned a lot about planting them each where they'd be most safe with the hours of shadow and direct sun. A professional gardening company advised me to provide more shade for my batch of pepper plants to prevent them from burning, so we used old bed sheets that we could roll back easily with a stick.

Each day, I spent 20 minutes or so doing light weeding and watering all the plants. It became a relaxing break from work. I'd listen to the birds and visit the flowers I'd potted and mixed in around the yard. It became a calm type of oasis, and some days I'd grab a glass of wine and sit in the yard enjoying the scent of the orange tree and the lavender plants. Gardening isn't always just for produce. I was able to make lavender sachets and orange oils for next to nothing. Using EOs (essential oils) is a growing trend and aromatherapy i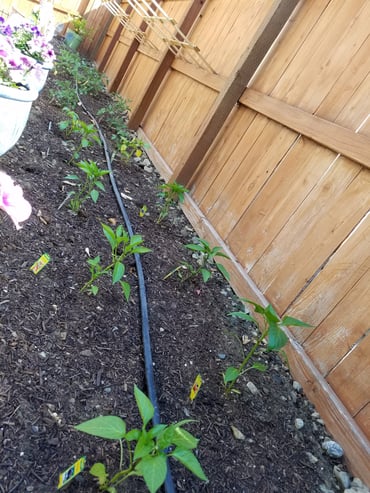 s a well-known holistic recommendation for natural healing.

I'll hit upon the biggest expense in all of this: ongoing water bills. We learned to water when the sun wasn't at its highest and we kept costs down by using the soaker hose each evening. It would slowly soak the soil and each day at lunch, I didn't have to use as much water when it was already hot out. We also re-purposed any rain water we would get, which wasn't enough but it was something. Even a bucket here and a pail there would supply enough water to various portions of the garden.

There are other ways to be self-sustaining. Recycle as much as you can -- here in California, we have weekly recycling pick-up, but that gives our recycling fees back to the city, in addition to us paying for the can and weekly pick-up. We have mandatory plastic bag fees now so more and more people are keeping reusable grocery bags in their car instead of paying the $.10 fee per bag at the store. Consider solar energy to cut back your electricity costs, and look at in-home ways to cut back power costs, such as using your washer, dryer and dishwasher outside peak hours. (The first month we did that, we saw over a $25 decrease in our power bill and that was really the only big change we made.) Turn off lights when you're not in a room, unplug chargers that aren't being used and I bust out candles for showers and baths. The cost savings there may not be high enough for some, but I'll take a spa ambience any day.

Each year, our garden improves a little as does our gardening skill. This year, we grew micro-greens and herbs in vertical pallet gardens. For the cost of the pallets (in our case, they were free), landscaping paper, seeds and organic soil bags, you can cross arugula, baby lettuce and many other salad ingredients off your grocery list for the entire gardening season. The garden looks pretty cool, too!

If you have space and plan on being around a while, consider planting a tree or two. Our orange tree is pretty to look at, smells fantastic, provides year-round fruit that we use for juice and baking (and an occasional mimosa). The shade it gives us makes the yard even more enjoyable. If you place your trees in the right areas, you can end up blocking direct sun from your windows in the hot summer months. Some trees attract hummingbirds and other pretty birds for a bonus to your view, too.

Being self-sustaining isn't all or nothing. Do what you can and do it to the extent that you can do it consistently. Don't go too extreme or it may not be something you can continue, so be realistic with your goals. Start small that first year rather than dumping tons of money and time into it before you're comfortable with what you're doing.

Start today, even if it's winter! Think about your favorite produce and research a little on what grows in your area. Pick a few of those items and see what you're able to do to your gardening area as far as grading, putting in raised beds, etc. When the weather turns warmer, you'll have less to do and you'll be inspired to follow-through. You'll soon be able to start planning your meals around your harvest!