Short answer? Yes, installing solar panels will increase the market value of your home by at least the cost of the system. Per the National Renewable Energy Laboratory, every $1 of savings generated from a solar energy system will add $20 to your home's market value when you decide to sell. Not only will you realize an increase in the value of your home, a solar energy system will help sell your home 20% faster than residences without solar panels.
"It's really kind of cool to have solar panels on your roof."
Bill Gates
Solar Panels Are Adding Value to Homes Across America
Solar panel owners are seeing an increase in their property values over comparative homes in their neighborhood. The main reason for this increase in market value is that homes with solar panels offer a definite financial benefit to future owners. Potential buyers are encouraged to purchase homes with an installed solar energy system because of:
State level rebates and incentives (every state is different*)
The 30% federal tax credit (30% of your system cost is covered by the federal government)
The ability to replace your electric bill with a much cheaper and cleaner option
The reduction of our carbon footprint
And obviously, it greatly increases the overall cost of your home!
New homebuyers also realize they will benefit from future increase of market value in a home with a solar panel system.
Seller's Incentives for Investing in Solar Panels
An average increase in the resale value of a home with a solar energy system equals $4,020 for each 1kW of panels installed. Your property value will increase with a scaled up solar energy system. For example, a 5kW solar panel installation will add an average of $20,100 to the market value of a mid-sized home. In California, a 3.1 KW solar panel energy system has the potential of adding an average of $12,462 over the price of comparative homes in a middle-class neighborhood.
A home with a solar energy system will catapult your property's value ahead of the similar homes in today's sluggish housing market.
As a future seller, you will have huge advantages.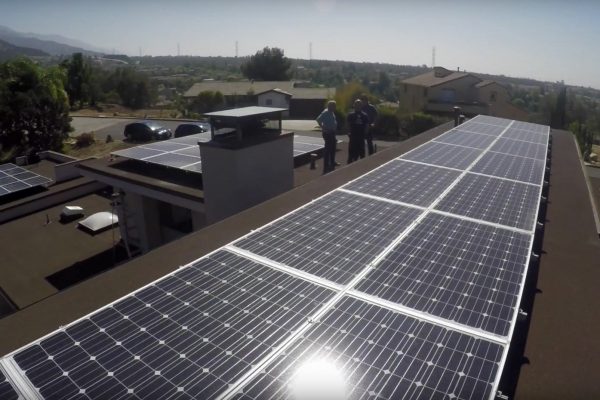 Demand a higher asking price for your home
Reduce exposure time on the market listings (sell your home (on average) 20x faster)
Realize an average of $20,000 increase in market value to a $500,000 home with solar panel system
Receive 100 percent of your solar panel investment upon sale of home
Factors determining your home's increase in market value at the time of sale:
Location of your home
Size of your solar energy system
Efficiency conversion rate of your solar energy system
Existing market value of your home
Buyer's Incentives for Investing in Solar Panels
A seller's incentives for investing in solar panels are parlayed to a future buyer because increases to a property's market value only go up as electricity prices rise. In turn, the buyer's future advantages of the solar energy system rise as well.
With a customized solar panel installation, you could potentially receive a 200% return. You will be hard pressed to find another financial investment matching these same returns:
Day 1 savings on your electric bill
Yearly savings throughout the lifetime of your solar panel system – 25 to 30 years
No down payment necessary for your solar energy system
Receive a higher purchase price for your home
Go Solar With A Top Local Solar Company
Find one of the best local solar companies in your neighborhood to install your home's solar energy system. Check out Pick My Solar's online solar marketplace and receive an estimated cost of installing a solar system. We will also give you an accurate estimation of your future savings using your basic information, electric bill, your home's sun exposure, the type of panels, and 46 other factors! So, besides the tremendous value added to your home, what other reasons would make you want to go solar?
Average Upfront Solar Savings = $4,200
Average Lifetime Solar Savings = $82,500
12 to 25 percent annual return on investment when paying cash up front for your system
Instant federal tax credit of 30 percent
Local solar rebates depending upon your state*
Unparalleled customer service in the industry
We GUARANTEE your solar energy production for the entire first year (No one else does this!)
Increase the Value of Your Home in 2017 With Solar Panels
Increase the value of your home in 2017 by going solar through Pick My Solar's innovative online marketplace. We are your one-stop-shop specifically designed to help you navigate through the solar energy installation process from start to finish. We are the only company in the industry that stays by your side every step of the way. From basic information collection, bid gathering and analysis, communicating with installers, to touching base months after installation to make sure you are satisfied with your new solar project.
All costs for using our platform are paid for by reputable, pre-qualified, local solar installers.
Pick My Solar is committed to facilitating the use of clean energy technologies by homeowners and businesses across the United States. Reduce your electricity bill every month and increase the market value of your home by reaching out to our energy experts today.
Go solar with ease by calling 888.454.9979 – or – clicking the icon below to increase the value of your home in 2017. Our energy experts are available for one-on-one consultations Monday through Friday between 7:30 a.m. and 7 p.m.
**When checking your state's rebates on www.dsireusa.org, please double check the dates, as some rebates may have expired and replaced by new rebates/incentives**