Solar Energy is the fastest-growing electricity source and is expected to contribute 36 percent of total US renewable energy generation by 2050. Shifting to solar has a wide range of economic, environmental and personal benefits.
But let's admit it . The process of going solar has always been confusing!
Even though homeowners agree with the benefits of a solar panel system (tens of thousands in energy bill savings), they are often bothered with many questions and doubts, particularly around the cost of solar.
Introducing... Our Brand New Solar Calculator!
To clear this confusion and to help homeowners to decide the best solar panel systems for their homes, Pick My Solar recently upgraded its solar savings estimator (try it out for yourself!).
We now consider it the most sophisticated solar panel savings calculator available to homeowners for an instant estimate of their savings with solar.
Solar system calculators are a great way to begin exploring solar for your home, without needing to commit to speaking with project managers or company representatives.
By providing your address, our solar energy savings calculator helps you to find answers to questions like:
What would be my estimated electricity bill after going solar?

What are my savings on a solar panel system?

What should be

the size of my system?

What panels makes sense to my roof?

What are the different government incentives I'm eligible for?
In short, we help you "Discover Your Solar Potential!"

Snapshot of Pick My Solar's homepage, which features our upgraded solar calculator
Our solar savings calculator provides more accurate cost and savings estimates by analyzing your current electricity bills, rooftop, and solar pricing in your area.
First and foremost, Pick My Solar's calculator is the first-ever to deploy Google's Project Sunroof API to instantly deliver solar estimates on a roof-by-roof basis to users.
What Is Google's Project Sunroof?
Google has dabbled in the solar market with Project Sunroof since August 2015. Project Sunroof uses Google Earth's high-resolution imagery to help calculate a roof's solar energy potential.

Upon entering an address, the tool analyzes factors such as shade, roof orientation, and local weather patterns to calculate how many hours of sunlight hit that roof in a typical year.
This analyzed information is then combined to create an estimate for how much power a user could produce and can save with solar.
Pick My Solar's Solar Savings Calculator Features
Pick My Solar has substantially upgraded its solar savings calculator to provide more accurate cost and savings estimates with solar.
Using our tool, you can see:
Improved Shade Analysis - Powered by Google Sunroof data, all estimates consider the shading and irradiance levels of every roof plane, with the panel placement optimized for the most productive areas of the roof.
How Your Neighbors Are Going Solar -

S

ee how many of your neighbors have gone solar, how many bids have been solicited on our platform near you, and how many qualified installers we have in your area.

Detailed Cash Flow Analysis - The cash flow analysis in our solar calculator gives better insight on payback period and estimated savings with a solar system. You can even toggle between Cash, Loan, and Lease purchase types.
Solar Viability Score - The solar calculator features a solar viability score that analyzes your solar potential, cost of energy in your area to determine how viable your property is for solar - from low to a "no-brainer."
How to Calculate Your Solar Power Savings

Here's a step-by-step walkthrough of how to use our solar savings calculator.
Step 1: Enter Your Address
To begin with, go to https://pickmysolar.com/ and enter your address to discover your solar potential.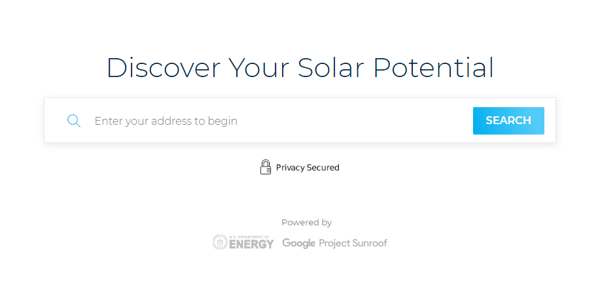 Our calculator then fetches Google Sunroof's data, analyses optimal solar design and searches applicable government incentives to display estimates.
Step 2: Select Your Current Monthly Energy Bill
Use the Monthly Energy Bill slider to select what you're currently paying for electricity. The higher the bill, the more solar energy you will need to offset it.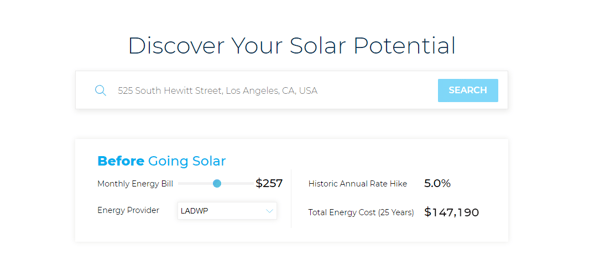 Our solar panel cost calculator will automatically adjust it's results based on your bill selection.

Step 3: See Estimates After Going Solar
Next you'll see your "After Solar" estimates based on your address and monthly energy bill.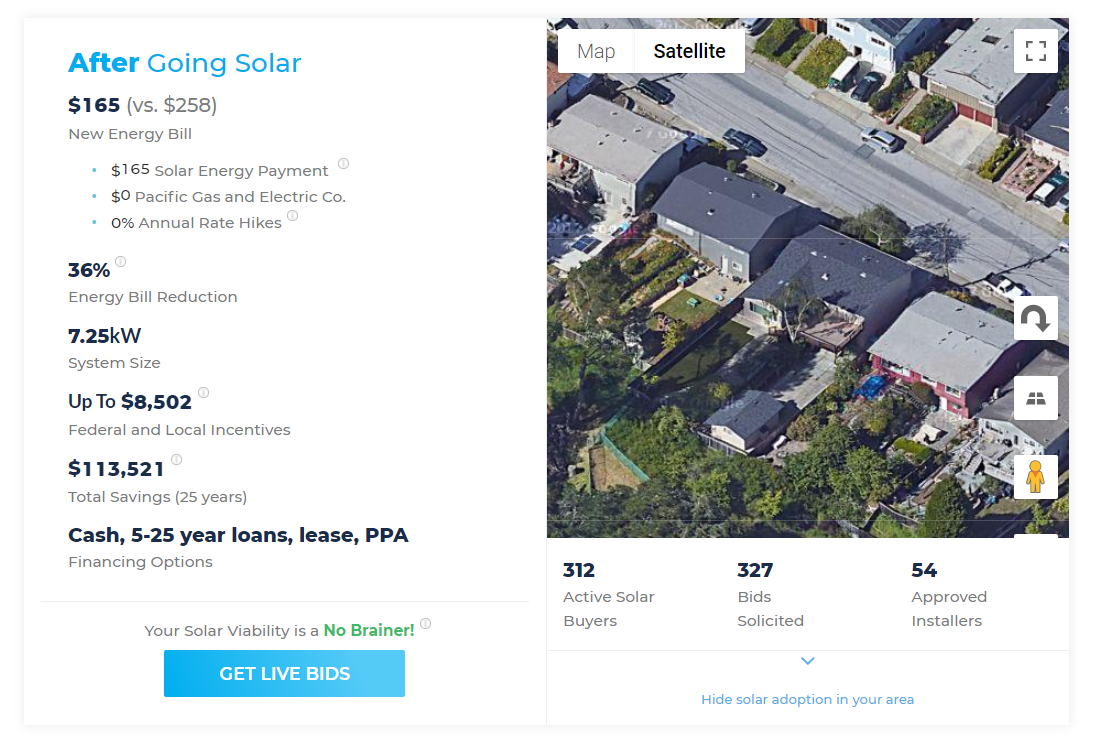 In this section of the tool, you can see:
New Energy Bill with Solar

(Versus your old electricity bill)

New energy bill comprises monthly solar energy payment (loan), a fee to the utility and annual rate hikes

Savings (%) on your energy bill
System size
Federal and local incentives that you are eligible.
Total energy savings over 25 years
Available financing options

Cash

5-25 year loans

Lease

PPA (Power Purchase Agreement)

Solar Viability - Your Solar potential

Low

Medium

High

No-Brainer
Step 4: See Cash Flow Analysis
The solar panel calculator's cash flow analysis gives a graphical representation of immediate and long-term savings for the three most common financing options in solar - cash, loan, and lease.
On the right-side graph, the long-term savings are further broken down to as annual and cumulative savings over 25 years. Hover over any year to see the calculated results.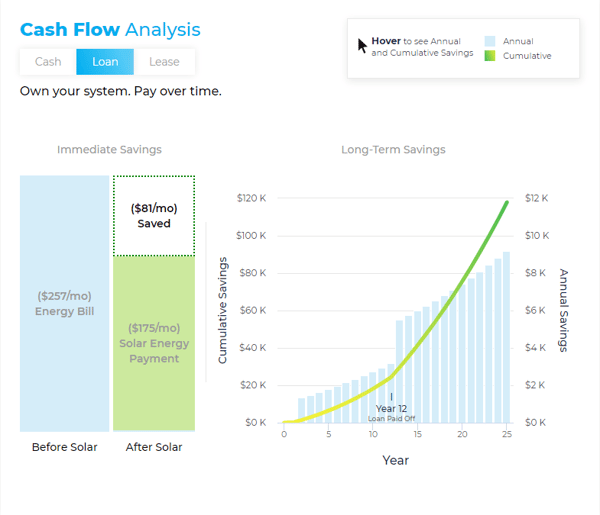 Step 5: Get Bids from Installers
Create a project with Pick My Solar to see live, competing installer bids on your system.
Our design tool analyzes 50+ factors while considering bids from installers. This guarantees the best price for your system.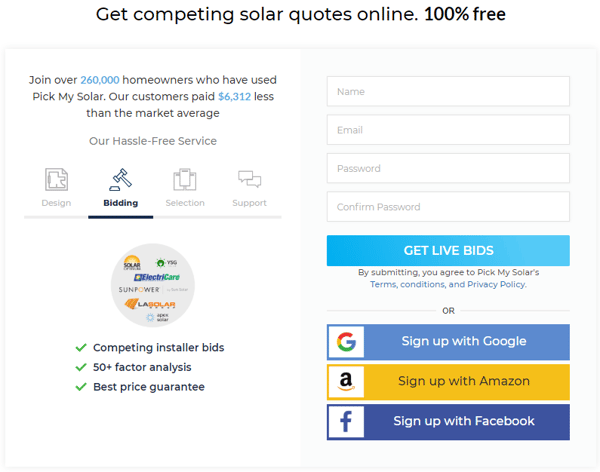 How is Pick My Solar different from other providers?
Below are some key points to consider:
Installers Compete on Pick My Solar
Our marketplace provides a platform for multiple solar installers to compete for your solar panel system.
We make sure to pre-screen these installers before approving them to place bids. This transparent process enables homeowners to analyze the quality of the installation company, evaluate the equipment quality offered by each pre-screened installer and helps homeowners to understand the costs and benefits of various financing options.
Be wary of certain solar calculators that will sell your contact information to the highest paying installation companies without vetting their standards.
Check out this video for more details on Pick My Solar Online Marketplace.
Comprehensive System Guarantee
While other companies only offer workmanship and manufacturers warranties, our TriGuard guarantee covers the actual production of your solar system, in addition to other coverage
A Trusted Brand in Solar
Pick My Solar is a trusted brand that was built in part by funding provided by the U.S. Department of Energy.
Our platform has integrated with many organizations, providing solar solutions to the constituents of large utilities (including the largest utility in New York), to local nonprofits and private businesses.